Everything happens for a reason, even if it's by mistake.

For Wesley Liikane, it was a motorcycle accident that serendipitously steered him towards a career in photography. He speaks candidly about the depression and insomnia he experienced following his accident. As it turns out, astrophotography would be the perfect way for him to overcome his depression.

"I can't sleep. I have depression. What can I do when I can't sleep?"

Wes travels through Algonquin religiously, chasing the best night skies Central Ontario has to offer. He's in Whitney all the time, either guiding astrophotography workshops or wildlife photography tours. His business, "Cowboy With A Camera," is entering the next step in its evolution as he plans to use his recently purchased 90 acres as a night sky observatory and wildlife refuge.

"Sometimes I actually stay up for days and days… I photograph the sunset, happens to be a clear night. Well, might as well stay up all night and photograph the milky way… It's the adrenalin, your blood starts flowing, the beauty of the night sky keeps me awake… The next thing you know it's 4am, it might be a good sunrise! And of course dawn is when the animals get active."

Wes is an outspoken dark sky activist. As a dedicated astrophotography expert he's been keenly aware of how development trends in Ontario are taking away from the natural beauty of the dark night sky. He has tried to educate local town councils about the importance of preserving dark skies.

"As towns keep developing, how can we keep our dark skies beautiful? How can we protect our animals, such as The Eastern Whippoorwhirl, which is starting to decline all over North America… As habitat disappears, light pollution starts popping up too. We build our homes, take away their homes, put up lights, and then basically Southern Ontario has next to no dark skies – unless you're shooting over the Great Lakes."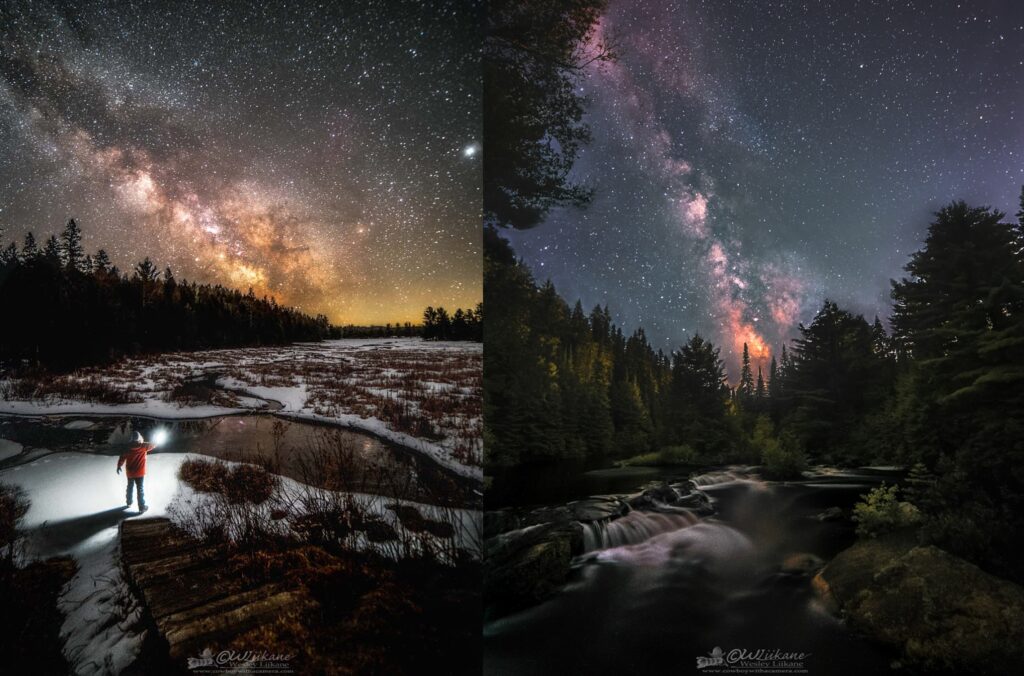 Ethical wildlife photography is another subject that Wes is very passionate about. Wes' message is simple: don't bait wild animals. "A fed animal is a dead animal," he says. He states that unethical wildlife photographers need to be better informed about the negative impacts of baiting.
"The thrill of the hunt is what keeps me happy… I never bait, never have, never will, and that's the funnest thing. That you moment you spent days and days looking for one photo. And then you snap the butt of a wolf. And you know, I'm probably one of the happiest people."
Wesley Liikane will be our first HOWL speaker, his presentation will be on Friday, October 18th, 2019 at the Lester B. Smith Community Centre in Whitney. We hope to see you there for his presentation! If you want to skip ahead to specific questions in our conversation, here's a brief transcript of our interview below. Thank you Wes for your time, we are excited to see your presentation at HOWL 2019!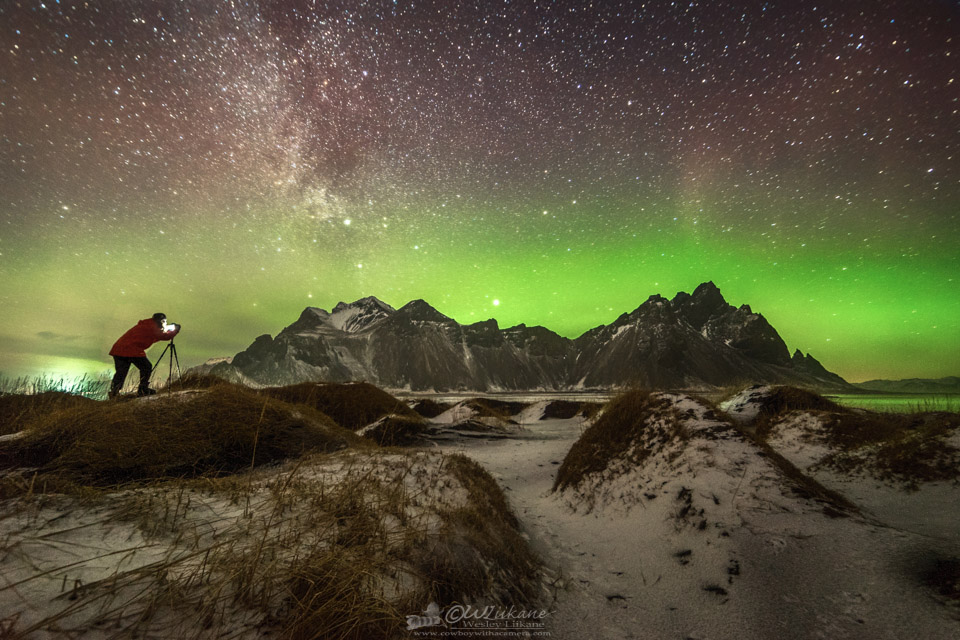 01:10 – How did you get into photography?
02:20 – How did you make the transition from hobby to doing it professional?
03:45 – Is the bulk of your work guiding or getting published?
04:40 – Why are you drawn to the stars and astrophotography?
06:00 – What level of photographer do you guide, beginner, intermediates?
07:00 – Do you think our dark skies are under threat?
11:35 – How do you manage stay awake for days and days?
14:00 – Why do you love coming back to Algonquin?
16:35 – Why is ethical wildlife photography important?
19:55 – What's the answer to enforcing ethical wildlife photography?
27:30 – What's the future of photography technology?
32:30 – How did you come up with "Cowboy With A Camera?"
34:30 – What are your business goals in the future?
38:25 – What's the role of social media in your life as a self-employed photographer?
Images copyright © by Wesley Liikane used with permission