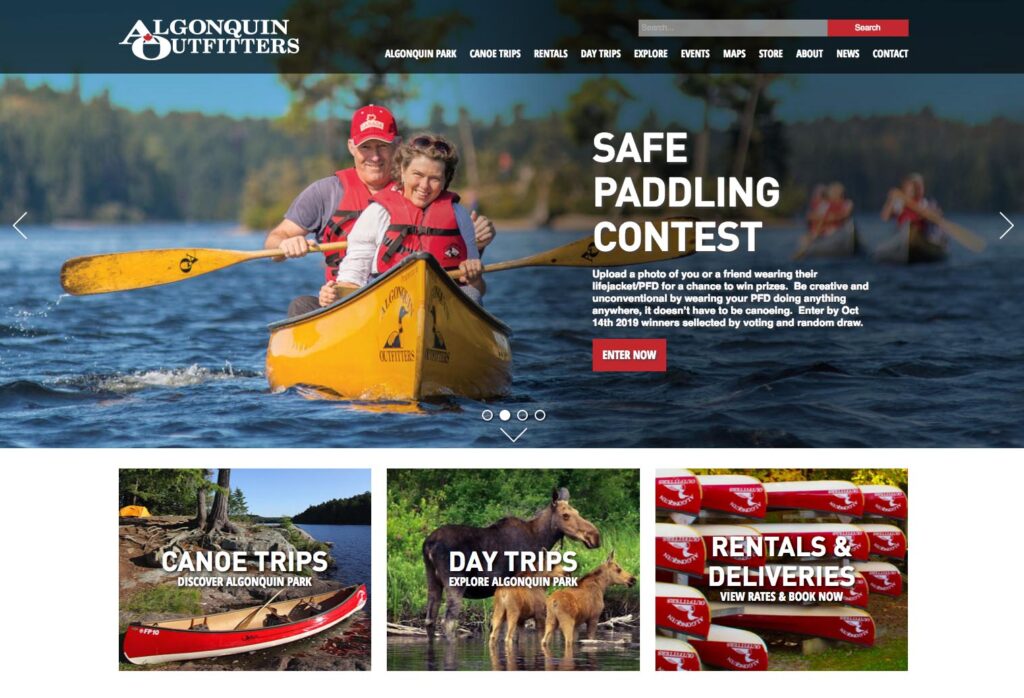 Even though Randy Mitson isn't exactly celebrated for his wildlife photography, there's no denying that he plays a very influential role in the way photography is used to promote Algonquin Park and the surrounding area. He has had over a decade of success in marketing, especially online marketing. His current position as Marketing Manager at Algonquin Outfitters – perhaps central Ontario's most prominent outdoor outfitter – ensures that his marketing messages are seen by almost everyone visiting Algonquin Park.
The story of Randy's career is unique because it's always revolved around photography although he isn't "in the trenches" lugging his gear with him any more. He started as an entrepreneurial photographer, then became a camera salesperson, was a canoe guide, a paddle sports manager, and then finally turned into the marketing rock star that he is today.
"I had my pilot's license before I had a driver's license. The last year I was in school, over the summer, to get money for college, I did aerial photography. I flew my own plane and took pictures. I'd fly over a country road with farms all along it, I'd develop the photos in 8×10, frame them, and then I'd go door-to-door asking farmers, 'I have an aerial photograph of your farm, would you like to buy it?' I sold a good chunk of them."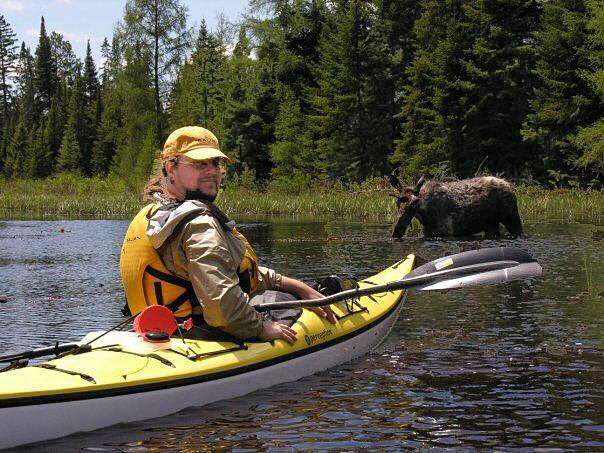 "I was 17 at the time. The biggest photo I ever did was on the Nanticoke Generating Station. It was newly built at the time, so I knew they didn't have an aerial photograph of the new generating station. I had the guts to walk into the office lobby of this industrial complex with a 20×24 frame and say to the receptionist, 'I want to sell this to you, who do I talk to?' Not only did they buy the photo I walked in with, they ordered an even bigger print to display in the lobby, and one print for each of the 30 board members. I made $3,600 on one picture!"
After Mitson had finished his flying photo gig, he took up a job as a regional sales manager at a camera store. It's for this reason, he says, that he was very quick to embrace the digital revolution.
"I was working at a photography store when digital came around, so I got into digital photo editing and restoration right from the get-go. The very first digital camera I sold was a Canon Xapshot. It looked like a flying saucer and cost thousands of dollars. And it produced an image that was something like 300 pixels by 400 pixels. It was state of the art at the time, but worse than what the cheapest cell phone can do now!"
Although he still takes outdoor adventure photos for magazines such as Algonquin Life, he's now mostly in the business of using imagery to connect with customers. And seeing how Algonquin Outfitters is one of the biggest outfitting brands, he's obviously very good at what he does.
"My goal in marketing is to change people's opinions," he summarizes. He gives an example of a recent Algonquin Outfitters photo contest that promotes life jackets. He tells me he had grown very concerned about the irresponsible visual message behind photos in the media of people not wearing life jackets. In an attempt to change the public's perception that "wearing a life jacket is cool," his ad/contest campaign directly engages with paddling customers while promoting a positive message about water sports safety. A branding home-run, in other words.
"If you connect with your customers with an emailed newsletter, on average you could expect 17% of your newsletter recipients to actually open and read the newsletter. That's the industry average. For me, the goal is, can I create a an image, campaign, newsletter, or contest, that is shared 500% of the time by a fewer number of people," Mitson says. He tells me about how he's beginning to connect more with social media influencers that open exposure to an exponential number of people. It becomes apparent in our conversation that social media is responsible for changing the entire dynamics of the photography industry.
Above: Video by Chris and Julia Prouse, sponsored by Algonquin Outfitters. An example of a marketing campaign using social media influencers.
"Sure you just took a great picture, but selling that picture will be the hardest thing you'll do. Whereas if you create an experience that connects with the person you're going to sell it to, you've got a better chance… If you want to sell your photography, it has to connect with somebody. For example, if you went on an Algonquin trip and took pictures of people on the trip, you would have more chance to sell that, rather than pictures of a moose that no one saw but you."
"There is certainly one type of photo that I'd pay for: I'm looking for a wildlife picture. I want a picture of people canoeing with our canoes. I want it to be a landscape picture, but it also has to be a wildlife picture too, but it has to have more than one animal in it. So it needs to have a bull moose, with velvet antlers (not bloody), with loons in the water, and loons in the air! That's the dream shot that I'd buy."
HOWL is excited to have Randy speaking 11:30am-1pm on Saturday, October 19th, 2019. As a "photography outlaw," Randy will be bringing a unique perspective to the convention. His presentation will focus on the business side of photography; everything from social media strategies, monetizing, and marketing philosophy. He warned me he can talk "for hours," so we are looking forward to it!
Images copyright © by Randy Mitson used with permission